Hello Neighbor,
I am back in St. Paul for the start of the new legislative session. Although our Senate offices and the Capitol are not currently open to the public, I am available for meetings over the phone or via virtual means. As always, all legislative sessions and committee hearings are also broadcast and recorded to be viewed over the internet.
Oath of Office and the First Days of Session
It was my pleasure to vote today for Sen. Jeremy Miller as Senate President. Sen. Miller will continue to serve our state well as a fair and respectful President for all of our Senate proceedings as evidenced by the bipartisan support he received today.
Minnesota's 2021 Legislative Session officially began on January 5. I joined my 66 Senate colleagues on Tuesday for an official swearing into office ceremony at the Capitol.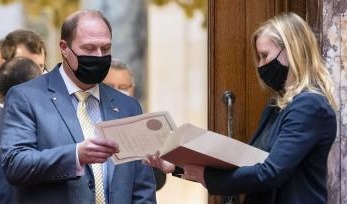 As we begin the legislative session, I am looking forward to serving our communities for another two years as your legislator by advocating for Minnesota families and your rights. This year the legislature will craft, debate, and approve a new two-year state budget. As in the past, I am committed to protecting families' pocketbooks and will continue advocating for smaller government and more freedom for all Minnesotans.
Additionally, I will continue to advocate for your liberty during the pandemic. I am committed to working across the aisle to open Minnesota back up, safely allowing our children to get back to school and us to get back to work.
Committee Assignments for 2021-2022
During the first few weeks of the session, most of my work will occur in Senate Committees. During the 2021-2022 session, I have been appointed to serve on the following committees:
Chair of the Labor and Industry Policy Committee
Vice-Chair of the Higher Education Finance and Policy Committee
Energy and Utilities Finance and Policy Committee
Jobs and Economic Growth Finance and Policy Committee
I am excited to serve as Chair of the Senate's Committee on Labor and Industry Policy. Creating workforce opportunities and ensuring a safe working environment for Minnesotans is a critical issue to me, our district, and the entire state. I look forward to working with stakeholders to increase our workforce training and skills programs so that we can prepare our current and future workforce for the labor demands. In the same light, I hope that we can use this opportunity to ensure existing programs are doing their most for hard-working Minnesotans and that we can increase the resources at their disposal.

I also want to continue to raise awareness, especially with our high school students, about the opportunities that are out there in industries like construction, manufacturing, automotive, and health care that do not necessarily require a four-year degree.
COVID Restrictions Update
As the COVID-19 situation improves by nearly every metric across Minnesota, the Governor announced measures that loosen restrictions on important parts of daily life on Wednesday.

I'm glad to see the Governor loosening the restrictions and putting Minnesota on a path that will allow us to open up. That said, the Governor continues to implement broad COVID-19 restrictions as if the same rules that are needed in Minneapolis are necessary for Pine City and countless other communities across Greater Minnesota. The Governor's prolonged shutdowns have put numerous Minnesotan families and businesses in grim economic situations, and the data hasn't shown that it has worked better than our neighboring states. As a result, most Minnesotans are facing hard financial choices. With the legislature back in session, I am calling on the Governor to work with us, reach across the aisle, and develop collective solutions that allow Minnesotans to safely return to school, work, and their regular lives.
Starting January 11:
Indoor dining at bars and restaurants can open at 50 percent capacity, with a maximum of 150 people. Parties of no more than six people must remain six feet from other parties; bar seating is open to parties of two; reservations are required; and establishments must close dine-in service by 10 p.m.
Gym capacity remains capped at 25 percent but maximum capacity increases to 150 and classes can increase to 25 people, assuming distancing can be observed. Machines and people must maintain 9 feet of distance. Face coverings are required.
Outdoor events and entertainment continue at 25 percent capacity, but maximum capacity increases to 250 people. Social distancing is required.
Indoor events and entertainment – like bowling alleys, movie theaters, and museums – may open at 25 percent, with no more than 150 people in each area of the venue. Face coverings are required, and they may not offer food service after 10 p.m.
Youth and adult organized sports have resumed practice as of January 4 and games resume January 14 with spectators, following the appropriate capacity limits for indoor or outdoor venues. Inter-region tournaments and out of state play are discouraged.
Pools opened on January 4 for some activity and may now open, like gyms, at 25 percent capacity.
Wedding receptions and other private parties may resume with limits. If food and drink are served at the event, then they are limited to two households or 10 people indoors and 3 households or 15 people outdoors. If there is no food or drink, they are covered by event venue guidelines. Any related ceremony – like a wedding or funeral ceremony – is guided by rules for ceremonies and places of worship.
Places of worship remain open at 50% capacity but without an overall maximum capacity.
Stay in touch
I'd like to remind residents that I am always available to answer your questions or concerns. Please email me anytime at sen.jason.rarick@senate.mn or call my office in St. Paul at 651-296-1508.

Thank you for giving me the privilege of serving you in the Minnesota Senate! Like me on Facebook!