Bonding Committee visits critical Southwest MN projects
Even numbered years typically mean bonding years for the Minnesota legislature. Bonding is one of the way we pay for critical infrastructure projects that have a statewide impact or statewide significance – think of it like Minnesota's credit card.
The committee in charge of developing the bonding bill is the Capital Investment Committee, and recently I joined them for a tour of several projects in our area.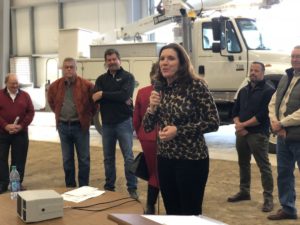 The first stop we made was to the campus of Minnesota West Community and Technical College for a tour of the school's new power line technician training facility. The $2.55 million power line technician facility includes indoor training spaces to instruct students in power line pole and hardware installation and removal, proper climbing techniques, how to safely operate equipment, and other maintenance techniques. The new facility replaces an off-campus, outdoor facility. The project was funded in the 2015 Capital Investment bill.
The new power line technician facility is terrific. Every year there are discussions about how best to prioritize our limited bonding dollars, but projects like this are precisely the kinds of projects we should be supporting. It shows what we can accomplish when we use taxpayer dollars wisely. The new training facility will be a fantastic resource as we train the next generation of valuable, skilled workers.
Then we heard a presentation from the city of Jackson about their request for $516,000 to replace sanitary sewer, water main, force main, and for a lift station rehab on a half mile segment of County Highway 14, also known as the South Highway. This project is all about timing — Jackson County is responsible for the street portion, which it plans to replace in 2018, and the city of Jackson would like to replace the aging utility infrastructure, which was installed in 1958, concurrently with the county's project.
Then we visited the city of Waldorf, where the committee learned about the city's crumbling sewer and water infrastructure. Officials would not even let the committee inside the water treatment facility due to safety concerns. The city did an incredible job of conveying the seriousness of these repairs.
Finally, we went to the Minnesota State University, Mankato. We heard from the city of Winnebago, which has an urgent need to replace their rapidly deteriorating public utility infrastructure. Every year, the smallest rains cause massive flooding and sewer back-ups into homes due to the old and poor infrastructure, much of which is approaching 80 to 100 years old.
Next, we heard from the city of Mankato, which has been having severe flood issues due to their overloaded storm water system. Their plan focuses on stopping the excess runoff through preventative measures, and restoring damaged wetlands and stabilizing riverbanks.
We have duty to be responsible with taxpayer dollars – a responsibility I take very seriously. But we also have a duty to take care of the state's infrastructure projects. I'm glad the Capital Investment Committee was able to learn about these projects firsthand, and though I don't sit on the committee, I will continue to impress upon members the urgency of getting these projects done this year.
Note: this column originally ran in local area papers