Yesterday, Gov. Dayton reintroduced an increase in license tab fees, which was previously off the table, as part of his latest budget offer. His proposal increases license tab fees by a total of $321 million in 2018-19, and $638 in 2020-21. We used the current formula to calculate how much this increase would cost Minnesotans.
Here's what we found: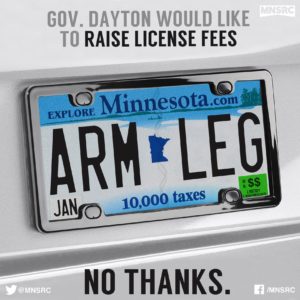 — Minnesota drivers will pay an additional $735 in license tab fees on a moderately priced vehicle under Gov. Dayton's proposal.
Gov. Dayton's proposal brings the total license tab fees to $2,210 over ten years for a moderately priced car – adding a whopping 11% to the total cost of the vehicle.*
— Median-income households can no longer afford the average new or used car. High taxes put car ownership further out of reach and families more in debt.
According to Edmunds and Kelley Blue Book, the average used car costs $19K, and the average new car costs $33K. A recent study from Bankrate found the median-income household in Minneapolis making $51K per year can no longer afford to buy either of these cars. The average U.S. household, however, owns two cars. Paying an additional 11% in tab fees alone (not including sales tax, title fees, filing fees, gas taxes, etc.) puts the average vehicle even further out of reach for median-income families and creates more car loan debt.
— The Senate cannot pass tab fee increases.
An amendment offered by Sen. Susan Kent to increase tab fees failed 21-43 earlier this session.
Statement from Senate Transportation Chair Scott Newman:
"Governor Dayton's proposal to increase tab fees by $320 million is a complete reversal of what he indicated he would accept in a transportation plan last month. This will be a significant burden on families. Minnesotans can't afford another tax increase, nor do we need one when the state already has a $1.65 billion surplus.

The Republican transportation plan put billions more into fixing roads and bridges without increasing taxes, but Governor Dayton vetoed it anyway. There is very little support for his tab increases in the Senate, even among Democrats. We're open to suggestions to improve our plan, but will continue to reject all unnecessary gas tax or tab fee increases."
*Assumptions:
-A moderately priced vehicle = $20K. The average used car costs $19K, and the average new car costs $33K, based on Edmunds and Kelley Blue Book studies.
-Under the current formula, a $20K vehicle depreciates over 10 years.
-The above calculations do not include the $20 base rate charged after the vehicle is fully depreciated.