Greetings Neighbors!
We completed the 2020 Session here at the Capitol Sunday night. Although things are still changing on a daily basis, I remain encouraged by the community we have in District 23 during these times.
As I am sure you're aware, Governor Walz has made many new announcements. I've included information on these changes below. I am not pleased with the announcements the Governor has made – there is no reason these changes need to be this slow or arbitrary. It doesn't make sense to continue to keep healthy people severely restricted when  81% of COVID deaths are from long-term care centers with vulnerable populations. Governor Walz said himself this system isn't perfect. I agree and I suggest that we allow businesses and people to decide how best to safely interact. The government doesn't need to be prescribing our every movement to keep us safe.
We released a letter to Governor Walz and Attorney General Ellison regarding the recent announcements. You can read the letter here.
Although the Capitol may be "closed", my office is still open. Please don't hesitate to reach out with any legislative concerns or questions you may have. I and my staff are here to help. We are back to work in Floor Sessions, Committee Hearings and the COVID-19 Working Group via Zoom Conference calls. You can watch these committees live from Senate.mn.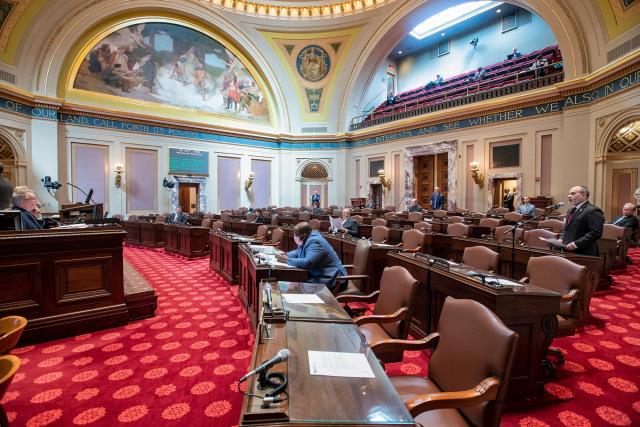 Session Update:
SF4494 – Provides one-time funding to expand access to broadband internet service. For all of these programs, if the Commissioner of Management and Budget determines that any money spent​ is an eligible expenditure from the coronavirus relief account in the federal fund, the amount of the expenditure is appropriated from the​ coronavirus relief account and the corresponding amount is canceled from the general fund.​
SF2466 – Vulnerable adults are targets of many online and telephone scams, which can compromise their fiscal security. Scams can come from both domestic and international sources, are hard to track, and difficult to prosecute. The National Council on Aging has called financial scams targeting seniors the "crime of the 21st century". Over recent years, more awareness has been made to the devastating impact financial scams can have on our senior and vulnerable adult population. Types of scams include, but are not limited to, telephone/internet scams, prescription drugs, investment schemes and more. The exact fiscal impact these scams have is difficult to track and quantify.
SF4091 – This is the Department of Commerce 2020 Technical Corrections bill, containing small updates and changes to commerce related statutes. The bill also fixes several incorrect cross references in statute and makes statutory licensing requirements more uniform.
SF3072 – This bill attempts to make the law clearer by exempting tracking warrants from the usual sealing and disclosure requirements for the statutes on warrants for wire, electronic, or oral communications and pen registers, trap-and-trace devices, or mobile tracking devices.
SF3357 – This bill included all or portions of the following bills: Modifications to Guardianship & Conservatorship (SF3258), Uniform Transfers to Minors Act Modifications (SF2914), Minnesota Common Interest Ownership Act Voting Modification & Court Petition (SF3348), and Wage Garnishment Timeline in Court Judgments (SF1706).
SF1805 – Allows 16 and 17-year-old minors to be employed to operate lawn care equipment in certain environments if training is provided and certain personal protective equipment is worn. Employment is limited to minors who are directly employed by (1) a golf course, resort, or municipality to perform lawn care on golf courses, resort grounds, and municipal grounds or (2) by a rental property owner to perform lawn care on the owner's rental property.
SF3800 – This bill provides that a money transmitter must transmit money received within five business days unless specified circumstances exist. Requires a money transmitter to state in an agreement with a merchant that the transmitter has authority to place a hold on transmission. A transmitter that receives money to pay for goods or services must transmit the money within the time frame agreed upon in the merchant agreement. A transmitter must refund to the customer money received within ten days of a request for refund except under specified circumstances. Act is effective Aug 1, 2020 and applies to transmissions and merchant agreements executed on or after that date.
HF0745 – Under current law, a 16- or 17-year-old may receive a license to marry if the minor has parental or legal guardian consent, or absent that, if a petition to a court is successful.  In any of these cases, a judge must perform "a careful inquiry into the facts and surrounding circumstances."  There is a specific statutory short form that must be used for these marriages by minors. This bill bans all marriages by minors under the age of 18, and requires parties applying for a marriage license to establish proof of age
SF3255 – This bill includes all or portions of the following bills: Road Notice to Work on Private Road Bill (SF2935), MnDOT agency bill – Turnbacks Bill (SF3255), Memorial Bridge Designation Technical Correction Bill (SF4142), DPS agency bill – Temporary Vehicle Permit Display Bill (HF3845), Driver Information Exchange after a Crash Modification Bill (SF1538), School Bus Interim Inspections Bill (SF3254), Escort Vehicles Bill (SF3248), Mental Health DL Identifier Bill (SF4196), MnDOT agency bill – Special Transportation Service (STS) Regulations Bill (SF3468), Rick King on DVS Oversight Committee Bill (SF4119), and Aitkin County Township Roads Bill (SF2168). This bill also includes: Federal Funds Reporting Language, School Bus Warning Lights and Stop Arms while Delivering Language, and Expansion of Driver's License (DL) Extension Language.
SF3560 – This bill includes all or portions of the following bills and amendments: My bill, Managed care plans and county-based purchasing plans (SF3201), Medical cannabis manufacturers annual inspection (SF3895), Advanced practice registered nurses provisions modifications (SF1966), X-ray provisions modifications (SF4319),  X-ray provisions changed (HF3794), (A-4), (A-9), and (A-10).
SF3298 – This bill slightly modifies city charter commission process when filling vacancies. Specifically, it allows a district court judge to reappoint or appoint new members to the commission and gives them 60 days to make this decision.
HF3429 – This bill makes multiple improvements to state election law to ensure that Minnesotans can continue to participate in a safe, secure, and fair election in 2020.
SF3435 – An Appraisal Management Company, or AMC, is an independent entity through which mortgage lenders order residential real estate valuation services for properties on which they are considering extending loans to homebuyers. Federal rulemaking allowed under the Dodd-Frank Act (2010) implemented a federal fee in 2017 for AMCs. This bill updates current state law for AMC licensure applications. If the AMC is a national organization, any collected fees would be distributed to the national organization as required.
SF3251 – Authorizes manufactured homes that are in nonprofit or cooperative-owned manufactured home parks to be valued as an improvement to real property. When manufactured homes are improvements to real property, they are eligible for traditional mortgage financing. This bill requires the owner to file an affidavit of affixation, provides a statutory form, and authorizes the owner or a secured party to record a notice that the manufactured home is encumbered with a security interest.
SF3589 – This bill changes authorized investments for state banks and trust companies. It removes the ownership requirement that at least 51 percent of stock is owned by banks authorized to do business in Minnesota. This bill will increase the chance of keeping bank charters in Minnesota, and community banks who are customers and shareholders would not need to worry about holding a non-conforming investment.
SF3443 – Changes the definition of a modular home from a single-family home to a "one- or two-family" home and changes the date when manufactured home park owners can deduct from their assessment to be paid to the manufactured home relocation trust fund for vacant lots and for residents who have not paid the fee assessed to their lot from November 30 to October 31.
SF4511 – Allows businesses that are closed to ingress, egress, use, and occupancy by members of the public due to the Governor's EOs to reopen and resume operations.  A business may resume operations as long as they adhere to any COVID-19 workplace safety recommendations and guidance that are provided by MDH and the CDC and assist employers in providing a safe and healthy workplace and business operation. This bill is effective the day following enactment.
SF3322 – This is the human services reform policy bill. The bill incorporates several different standalone bills. Many of these bills passed out of committee and to the floor on their own, but due to COVID-19 and the impact the virus response has had on the legislature, the committee decided to work with the House and put together an omnibus policy bill. The chairs of the House and Senate committees have been working to pre-conference SF3322.
SF4481 – Appropriates $57.6 million from the Coronavirus Relief Fund in the federal fund and transfers $2.4 million from the Small Business Guarantee Loan program to DEED for relief grants to small businesses. Of this appropriation, $30 million is to the Minnesota Initiative Foundations to award and administer grants to businesses in Greater Minnesota and $30 million is to nonprofit corporations in DEED's network to award and administer grants in the seven-county metropolitan area. No more than 4% of the funds granted may be used by the nonprofit entities for administrative costs related to providing the grants, up to $2.4 million maximum. The money for these costs comes from the $2.4 million transfer from the Small Business Guarantee Loan program.
A business is eligible to receive a grant if they (1) are located in Minnesota and owned by a permanent resident of Minnesota, (2) have a permanent physical location, (3) are in good standing with the secretary of state and the Department of Revenue, (4) employ 50 or fewer full-time employees and (5) can demonstrate financial hardship as a result of COVID-19. Eligible businesses may receive grants of up to $10,000 to use for working capital to support payroll expenses, rent, mortgage payments, utility bills, and other similar expenses that occur in the regular course of business. Eligible businesses may receive one grant per establishment must not have previously received a loan through the Small Business Emergency Loan program.
The commissioner of DEED may develop criteria, forms, applications and reporting requirements for use by the nonprofit entities, and grant recipients must be chosen by lottery after applications are collected over a period of no more than 10 calendar days. Of the total amount appropriated, a minimum of at least $18 million must be awarded to businesses that employ 6 or fewer full-time employees and a minimum of at least $15 million must be awarded to minority business enterprises, businesses that are majority owned and operated by veterans, or businesses that are majority owned and operated by women. These amounts are not subject to the 50/50 metro and rural split.
SF 4481 also creates a mechanism to pay back the Minnesota 21st Century Fund for funds that were previously transferred to the DEED Small Business Emergency Loan program. If there is a forecasted surplus(s), up to $5 million will be transferred back to the Minnesota 21st Century Fund until $20 million has been transferred back into the fund. When the Minnesota 21st Century Fund has been reimbursed the total $20 million, any future loan payment credit to the Minnesota 21st Century fund will be transferred to the General Fund.
This bill is effective the day following final enactment and the funds are available until December 30, 2020.
SF3013 – This bill allows a natural gas utility to optionally file an alternative resource plan (APP) with the Public Utilities Commission (PUC) that would include recommendations for alternative resources that would advance the state's renewable energy and greenhouse gas reduction goals.
SF4563 – My bill, SF4563 changes the source of funding for several appropriations previously enacted during the 2020 legislative session. These changes are designed to maximize the use of federal funding by changing the source of the appropriation from the general fund to the federal coronavirus relief fund.  Each of the appropriations modified by this bill are related to COVID-19 or mitigating the effect of COVID-19.
SF3970 – My bill SF3970 changes the source of COVID-19 appropriations and transfers that were made earlier in the 2020 Legislative Session by canceling the general fund appropriations and transfers and transferring them to Coronavirus Relief Account in the federal fund. The following General Fund appropriations and transfers are transferred to federal funds in the Coronavirus Relief Account:
$20.889 million for the Public Health Response Contingency Account (Chapter 66)
$50 million for the Public Health Response Contingency Account (Chapter 70)
$150 million for the Health Care Response Fund (Chapter 70)
$29.964 million for peacetime emergency childcare grants (Chapter 71)
$6.2 million for financial assistance to any veteran or surviving spouse of a veteran in need of assistance as a result of COVID-19 (Chapter 71)
$9 million for food shelf programs (Chapter 71)
$5.53 million for housing support rate increase (Chapter 71)
$11 million for grants to tribal nations (Chapter 71)
$1.25 million for Second Harvest food bank grants (Chapter 74)
Additionally, SF4563 uses funds from the Coronavirus Relief Account to cover certain expenditures that were authorized from the COVID-19 MN Fund. The following Legislative COVID-19 Response Commission Action Orders are included:
$2.255 million to manage COVID-19 demands at corrections facilities (Action Order #7)
$36 million for U of M/Mayo Clinic COVID-19 testing (Action Order #9)
$10.952 million for pork euthanasia (Action Order #11)
SF2898 – This language would exempt those practicing hairstyling and makeup from the Board of Cosmetology licensing requirements. It also exempts practitioners from needing a permit to perform these services at a special event.
This language would effectively end the current enforcement by the board. Both practicing individuals and salon facilities are covered by the exemption, so long as they offer only hairstyling or makeup services and not any other general cosmetology services as regulated by the board.
SF3204 – My Prior Authorization bill, sometimes called precertification or prior approval, is a health plan cost-control process by which physicians and other health care providers must obtain advance approval from a health plan before a specific service is delivered to the patient to qualify for payment coverage.  Many physicians say prior authorizations have a negative effect on patient care, either by delaying care or causing patients to abandon care due to the administrative burden caused by the prior authorization process.
This bill updates existing state prior authorization laws to better define the prior authorization process. This will help patients by reducing delays in care, as well as decreasing administrative expenses for health care providers associated with the current process.
SF3356 – This bill modifies the format required when submitting required items for publication in the State Register. Under current statute, this information must be compiled in a machine-readable computer tape. This provision changes the medium from readable computer tape to a readable digital file.
SF4044 – This is the annual Revisor's bill to correct non-substantive, non-controversial errors, which generally include cross-reference, typographical, grammatical, and readability corrections.  Miscellaneous drafting, engrossing, and editing errors or omissions are also corrected, obsolete language is corrected or stricken, and expired provisions are repealed.  Also, conflicts between laws enacted in the same session of the Legislature are resolved.
SF3683 – Is the higher education omnibus bill.  Article 1 contains a variety of changes to OHE statutes. Article 2 contains changes to conform Minnesota's 529 savings plan with the federal Internal Revenue Code. Article 3 contains agreed upon language from the Office of Higher Education regarding the regulation of institutions of higher education and school closures.
SF2745 – Appropriates money for grants to the Agricultural Centers of Excellence.
SF3808 – My bill, SF3808 is the 2020 Pensions Bill as approved by the Legislative Commission on Pensions and Retirement on Wednesday, May 13th, 2020. This bill is largely composed of technical and administrative changes to state pension systems. Notable policy changes are detailed below.
MSRS Provisions
PERA Provisions
State Auditor Provisions
TRA Provisions
Volunteer Firefighter Provisions
And other Policy Changes
SF4285 – is the 2020 Agriculture Policy Omnibus bill.
HF627 – This bill requires the Peace Officer Standards & Training (POST) Board to develop, and law enforcement agencies to adopt, policies on eyewitness identification.  By November 1, 2020, the Board and stakeholders must develop a model policy that articulates best practices for eyewitness identification.  The policy must require the following:
The person administering the lineup be unaware of the suspect's identity, or if that is not practical, that the administrator must use a photographic lineup and be prevented from seeing which member of the lineup is being viewed at a given time;
The witness be instructed that the perpetrator may or may not be in the lineup;
Nonsuspect "fillers" used in the lineup be substantially similar to the description of the suspect; and
After identification is made, the witness must provide a statement that articulates the level of confidence in the identification.
HF4429 – Makes modifications to two programs: (1) the pay-for-performance job training grant program and (2) the displaced homemaker program.
HF4605 – Allows submission of documents and signatures electronically, by mail, or facsimile. This language would remove the in-person requirement for the below filings and documents so that local governments and other affected parties can continue processing filings as best they are able.
SF3258 – Inlcudes the following provisions:
Conservation Officer Authority to Issue DWIs 
Prohibition of Unmanned Aerial Vehicles over DOC Facilities
Youth Intervention Program Match Requirement During COVID-19
Background Checks for Access to Background Checks
Juvenile Confinement Cost Responsibility
Obsolete Ramsey County Corrections Department Repealer 
Feminine Hygiene Products for female inmates under general confinement
American Indian Programming
SF4519 – This provision would modify chapter 12.31 which relates to the governor's peacetime emergency declaration and duration powers. Specifically, this provision modifies the way in which the legislature has oversight over a peacetime emergency extension.
Current law states that the governor may extend peacetime emergency declarations for 30 days at a time after the initial declaration without legislative approval. The legislature can currently end a peacetime emergency at any time by majority vote of both House and Senate chambers.
This legislation would instead require the governor to garner legislative approval to extend any emergency order past the first 30 days. It also requires the Governor to give three days' notice to the majority and minority leaders of each body if they intend to extend a peacetime emergency when the legislature is in interim.
This bill would prohibit the governor from cancelling an emergency order and issuing a new declaration for the same emergency in order to avoid approval by the legislature. Lastly, it clarifies that if the governor declares two peacetime emergencies concurrently, the same legislative approval of any extension past 30 days is required for the second emergency.
This bill is in response to the current COVID-19 pandemic. It is intended to give the legislature a stronger voice in navigating and evaluating peacetime emergencies and the governor's emergency powers.
SF3226 – This bill:
Allows private third-party testers to conduct behind-the-wheel examinations.
Has the third-party testers trained and subject to the same rules and regulations as current DVS staff. Testers are required to conduct the exam the same way as DVS does.
States that if the third-party tester is the same person that provides behind-the-wheel instruction then they can't use the same routes for training and testing.
Requires the third-party tester to submit records of each examination to DVS so that they can audit, and if necessary, investigate the third-party tester.
States that the third-party tester can't be related to the test taker.
Mirrors current rules indemnifying the state testers, the state by having the third-part tester held harmless from claims brought by someone injured due to an accident caused by a previous client of the tester.
The current rules for third-party bus testers, after being slightly adjusted, are put in place of any DPS rulemaking.
States that DPS must use existing resources and can't hire additional auditors.
Has the effective date as August 1, 2020.
SF2224 – This bill would require most damaged vehicles to have a salvage certificate. Under current law, a salvage title is only required for late-model vehicles (five-years old or newer) or high value vehicles (worth over $9,000 before being damaged or an older vehicle having a gross weight of over 26,000 pounds). This bill would remove those exemptions. In addition, currently, if an individual retains the vehicle, they do not need to get a salvage title. This bill would remove part of this exemption by only allowing people who have retained their older-model or low value vehicles to not have to get a salvage title.
SF512 – This bill takes multiple steps to relieve the fiscal pressures charitable gambling organizations are feeling under the current economic crisis. The language requires all charitable gambling organizations, when required to submit a financial audit to the commissioner of revenue, to also send an electronic form including information on the audit report to the Gambling Control Board (GCB).
HF4490 – Is the Omnibus Agriculture Finance Bill.
HF4137 – In 2019, two Minnesota court cases invalidated certain provisions of the state's harassment/stalking crimes (a June Supreme Court case on stalking/harassing by mail and a December Court of Appeals case on stalking by telephone/voicemail).  The courts determined that the statutes were unconstitutionally overbroad because the crimes included both protected and unprotected free speech, and reasoned that the statute was troubling because it criminalized negligent behavior because it included communications without specific intent to harass or to cause harm.
This bill rewrites the entire harassment/stalking crime found in Minn. Stat. 609.749 by limiting the behavior and speech to actions committed with specific intent.  It then further makes conforming and minor changes in other statutes that are based on this harassment/stalking crime, such as the aggravated harassment crime, or the obscene phone call crime that contained similar concepts.
HF4599 – H.F. 4599 would provide that the mediation period is extended to 150 days or until December 1, 2020, whichever is later.  It would also expand eligibility to include farmers who initiate mediation under the Farmer-Lender Mediation Act in August 2020.  These changes would be effective retroactive to the original date of enactment of the COVID-19 law (April 16, 2020).
HF4415 – School Finance Adjustments Related to COVID-19 Emergency.
SF4499 – Environment Policy Omnibus bill.
SF15 – This bill requires school districts to provide military recruiters and skilled trades representatives the same access to present information to high school students as provided to colleges and other employers. An "armed forces career opportunity day" is also encouraged each year.
HF4601 – This bill directs the DHS commissioner to award specific grants using funds in the opiate epidemic response account.
SF2130 – Last year's collection of local liquor licensure modifications that will be amended by the House to include this year's non-controversial local license proposals. I am proud this bill included two of my bills: SF1664 – Allows Pemberton to issue an on-sale license to the Pemberton Community Center and SF2001 – Current law addressing municipal liquor stores requires that, if a municipal liquor store shows a net financial loss in any two of three consecutive years, city council must hold a public meeting about whether or not to continue operating the municipal store. This provision states that municipal liquor stores need not account for pension obligations for their employees when calculating the store's net financial loss or gain.
HF2529 – House Omnibus Capital Investment bill.
HF4206 – Contains two main components: (1) the 2020 recommendations of the Workers' Compensation Advisory Council (WCAC) and (2) the creation of a workers' compensation COVID-19 reimbursement fund.
HF4597 – This bill modifies fees related to horse racing and permits the commission to waive minimum requirements related to operating a card club for conditions that are outside the licensee's control. It is intended to relieve the financial strain felt by these organizations due to COVID-19.
HF1503 –  This bill allows a government agency operated by an Indian tribe to access certain vital records and associated data for governmental purposes, in the same manner and for the same purposes that other federal, state, and local agencies can access these vital records.
HF4500 – To provide relief from the effects of the COVID-19 peacetime emergency, this bill would authorize Minnesota Management and Budget (MMB) to provide grantees up to two additional years to complete the work and draw down funding under a state grant agreement. All grant recipients are eligible for the extension so long as funds are encumbered (i.e., money is reserved in the state accounting system for the recipient) by June 30th of this year.
HF4602 – Decreases the number of employees that must be retained to receive loan forgiveness to 150 full-time employees. Verso has requested this change due to the economic uncertainty that has been brought about due to COVID-19. They believe that these terms will be obtainable and will allow the project to continue to move forward.
HF3230 – There has been a decline in fluorescent light usage due to materials used in its manufacturing. The preference and accepted best technology for efficient lighting today has shifted to LED.
SF3463 – Senate Omnibus Capital Investment bill.
SF3745 – This bill would authorize the addition of unorganized territory into Harris Township. Legislation is needed to achieve this authorization because current law requires 20 or more registered voters to sign a petition to initiate the process.
SF4494 – Provides one-time funding to expand access to broadband internet service. For all of these programs, if the Commissioner of Management and Budget determines that any money spent is an eligible expenditure from the coronavirus relief account in the federal fund, the amount of the expenditure is appropriated from the coronavirus relief account and the corresponding amount is canceled from the general fund.
HF163 – Various education policies were considered by both the House and Senate Education Committees this year, but the normal process for assembling an omnibus bill was disrupted by the COVID-19 crisis.
HF4502 – This bill, named Energy Conservation and Optimization "ECO", would expand CIP to include load management and efficient fuel-switching, while continuing to promote the traditional energy efficiency programs. Allowing technology innovation and creating new utility programs to install these technologies, ECO could help save customers energy and money while supporting local businesses, like electrical, heating/cooling, ventilation and insulation installation.
HF2542 – This bill appropriates $100 million in housing infrastructure bonds and $100 million for emergency housing assistance from federal CARES Act funds, and implements numerous reforms designed to decrease the cost of housing.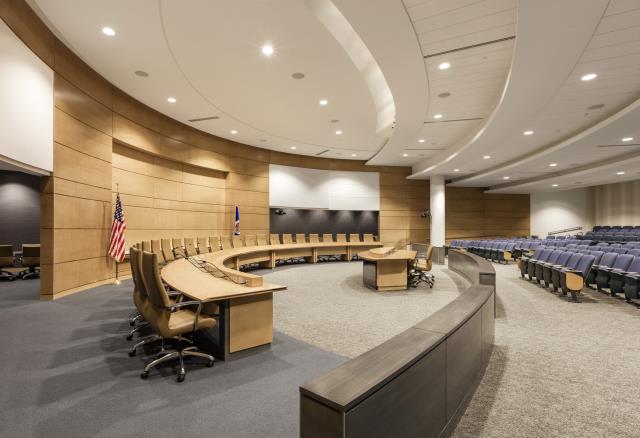 Committee Update:
Tuesday, May 5
Finance: We heard two bills on Tuesday. SF3255 (Newman) Miscellaneous Transportation Policy Changes and SF3739 (Utke) Family assets for independence initiative modification.
Health and Human Services: SF3970 (Benson) Pathway 2 of the safe importation action plan incentives for prescription drug manufacturers authorization. The committee also heard my bill, SF3204, which modifies a number of utilization review and prior authorization requirements for utilization review organizations when conducting utilization reviews.This bill took many years to complete and we are still working on improving it for a hopeful hearing on the floor. This bill will be heard in the Commerce Committee this coming Tuesday. I am very thankful for my co-authors, staff, and stakeholders who have helped get this bill drafted and sent through committees. Lastly we heard information on HF3486.
Thursday, May 7
Finance: On Thursday we had an Updated Budget Projection presentation from Minnesota Management and Budget. This presentation was done by: Myron Frans – Commissioner of Minnesota Management and Budget, Dr. Laura Kalambokidis – State Economist, and Britta Reitan – State Budget Director.
Health and Human Services: In HHS we heard and worked on SF3970 (Benson) Pathway 2 of the safe importation action plan incentives for prescription drug manufacturers authorization and SF4500 (Benson) COVID-19 serological testing grant program establishment and appropriation.
Also on Thursday my bill, SF3204, was heard by the Rules Committee due to a delay.
Friday, May 8
Finance: Today in Finance we heard my bill, SF4563 which gives direction to the Commissioner of MMB regarding COVID-19 appropriations and transfers to federal funds source modification. We also heard SF4481 (Anderson, P.) Small business loan transfers modification; emergency small business grants and loans appropriation and began working on SF3665 (Anderson, P.) General fund appropriations that pay debt service on the University of Minnesota debt for the biomedical research facilities to also be used to pay for debt service bonds issued for the clinical research facility authorization; appropriating money.
Monday, May 11
Tuesday, May 12
Finance: We heard SF2898, Senator Housley's Hairstyling and makeup services licensing requirement exemption bill, SF4395, Senator Westrom's Agricultural provisions modification and appropriation bill, and SF2224, Senator Jasinski's Salvage certificate of title class of vehicles requirement modification bill.
Energy: Our final Energy Committee for 2020 heard Senator Osmek's bill, SF2084, Energy utilities arbiter of disputes clarification.
Health and Human Services: We heard SF4500, Senator Benson's bill for COVID-19 serological testing grant program establishment and appropriation.
Wednesday, May 13
Thursday, May 14
Finance: We had a very busy day in Committee on Thursday. We heard SF4130, Senator Utke's 2020 Workers' Compensation Advisory Council recommendations adoption, SF3226, Senator Housley's bill for Third-party programs and third-party testers to conduct behind-the-wheel road tests for class D drivers licenses; requirements and criteria specified; audits requirements; appeals of decisions made by commissioner of public safety authorization, Senator Nelson's bill SF485, Competency-based education plan school district or charter school adoption authorization, SF4495, Senator Westrom's bill for Eviction and mortgage foreclosure protection and emergency housing assistance during public health emergency and appropriation, and Senator Relph's bill, SF92, Omnibus human services reform bill.
Health and Human Services: Our Final HHS Committee hearing consisted of HF1503, Senator Benson's Tribal public health access to birth data authorization bill, SF4603, Senator Benson's COVID-19 criminal, civil, and administrative immunity to persons engaged in health care services during the peacetime public health emergency authorization, and finally Senator Benson's bill, SF4500, COVID-19 serological testing grant program establishment and appropriation.
Friday, May 15
We held out final hearing in Finance on Friday, for the 2020 Session. I am truly honored to serve as Chair for the last four years. We had robust discussions and at times lively debates but I am proud of the work my committee accomplished. I do want to thank my Co chair, Senator Ingebrigtsen and minority Lead, Senator Cohan. As many know, Senator Cohan will not be seeking reelection this fall, his history lessons will be missed. I also want to thank all members of my committee for always showing up and engaging in conversation. We truly have some of the best members in Finance. I also want to thank my staff: Jessica Young, Finance Committee Administrator, Ruth Gredvig, Finance Committee Legislative Assistant, Jon Boeshe, Finance Committe SRC Researcher, Tom Bottern and Eric Naumen, both from Senate Counsel. Lastly, I'd like to thank our two Committee Pages, Michael and Erik.
Finance (Part 1) (Part 2): Our last Finance meetings consisted of hearing SF2084, Senator Osmek's Solar energy incentive program modification; renewable energy and other energy-related programs establishment; utility filing governing provision; report requirements and approprriation bill and SF1456, Senator Senjem's bill on Electric utilities to meet resource needs using carbon-free resources.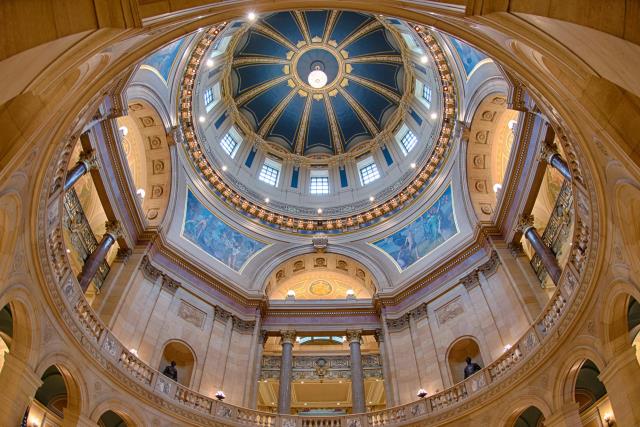 In commemoration of Statehood Day, the Capitol's electrolier is illuminated high above the Capitol Rotunda Friday, May 11. Photo by David J. Oakes, Senate Photographer
Executive Update:
Long Term Care Facilities:
The Governor will be releasing a Five Point Plan to protect senior Minnesotans and keep this virus at bay in our long-term care facilities. The plan:
Expands testing for residents and workers in long-term care facilities
Provides testing support and troubleshooting to clear barriers faster
Gets personal protective equipment to facilities when needed
Ensures adequate staffing levels for facilities
Leverage our partnerships with the facilities to better apply their skills and talents
Fishing Opener:
This year the Governor is asking people to fish closer to home.
Churches and small businesses filed a lawsuit against Governor Walz claiming his shutdown orders are unconstitutional.
On Tuesday Governor Walz signed Executive Order 20-51, providing a road map for safely restarting elective surgeries and procedures in hospitals, ambulatory surgical centers, and clinics. After May 10 at 11:59 p.m., doctors, dentists, and veterinarians who create a plan to maintain a safe environment for facility staff, patients, and visitors may begin offering currently-delayed procedures. These surgeries can treat chronic conditions, prevent and cure disease, and relieve chronic pain.
For guidance and frequently asked questions, visit Surgeries and Procedures During COVID-19.
Stay-At-Home Order Update:
On Wednesday, the governor announced that he would let his stay-at-home order expire on Monday and be replaced with a more limited "Stay Safe Minnesota" order. The new order keeps bars, restaurants, salons, gyms, and places of public accommodation closed through June 1 but allows most other businesses to reopen provided they have a social distancing and safety plan put into place. I'm sure members will have questions; staff is working with limited information what how specific businesses may be impacted so your patience is appreciated!
Infographics from the governor's office, see here.
Summer School:
"[Last Thursday], the governor issue[d] an EO to allow for school districts or charter schools to open their buildings for a hybrid model of in-school learning and distance learning this summer. Minnesota Department of Education will release guidance for summer school and summer youth programs. The summer learning opportunities may implement hybrid models where students are on alternating schedules between distance learning and in-school learning.  All in-school learning opportunities during the summer must be done in adherence to MDH guidelines for social distancing and other public health measures." See EO 20-57.
PUC:
The governor signed two additional executive orders on Friday: EO 20-58 allows the Public Utilities Commission (PUC) to meet remotely; EO 20-59 extends for an additional 30 days flexibility for truckers (truck weights, hours, and so on) that had been previously enacted.
Churches:
10 people or less
No Singing
Restaurants:
Outdoor seating only
No more than 50 people
Salons:
Salons and Barbers open at 25%
Everyone must wear a mask
Property tax payment extensions for the May 15th payment are being approved by some counties around the state. Please check with your county officials to see if they have approved an extension. Many county boards have already approved or many are in the process of providing this much needed relief for their property taxpayers in their counties. The property tax extensions vary by county as some counties are providing a 60 day payment extension for all non-escrowed property taxpayers; others have reduced the tax penalties; and others are providing the extension for only certain taxpayers such as Hennepin passed a 60 day extension but with a cap for taxpayers with $50,000 or less in property taxes ($100,000 for the year) and other counties may have a waiver process.
Blue Earth County provides property tax extension for non-escrowed properties to July 15th with additional provisions:  Any parcel that has a first one-half property tax statement amount due that exceeds $50,000 will need to meet three additional requirements to be eligible. 1) Document and certify a direct economic impact caused by the COVID-19 pandemic. 2) Experience a full or partial reduction or suspension of services or operations as a result of the subsequent "Stay at Home" order. 3) Experience a reduction in gross receipts of at least 25% in any 30-day period from March 1, 2020, to May 15, 2020 as compared to the same 30-day period in 2019. Excludes any public utility class and railroad property.
https://greatermankatogrowth.files.wordpress.com/2020/05/bec-property-tax-memo.pdf
Martin County approved penalty reduction for late payment of property taxes with a reduction to 1% penalty if paid by June 30th and 2% if paid by July 31st.
Waseca County Contact Waseca County for more information.
Graduation Ceremony Update:
The decision came from the Governor, Departments of Education and the Office of Higher Education and issued "Graduation (Commencement) Celebration Guidance" (see here). The document is intended to provide "different options" for public schools, colleges, and universities to honor graduates. The legislature was not consulted in this decision and I am shocked these Departments and Governor are not even allowing an outdoor ceremony. This certainly could have been a case by case decision as we have many, many small schools in District 23.
The document states, "Indoor graduations and ceremonies held outside in stadiums and football fields are not permitted…We know that many schools have considered ceremonies outside in stadiums or football fields. In-person social gatherings with people from multiple households, even in situations where ample space between attendees could be accommodated, does not comply with social distancing practices…These gatherings are not considered safe at any size and will not be permitted. Likewise, indoor graduations/commencement ceremonies will also not be permitted."
Although not enthusiastic about it, the document does permit such things as car parade or a parking lot ceremony where attendees must remain in their individual cars and no food or beverages are served at the event. Another ceremony option is to postpone graduation until later this summer (although we don't know how long the Governor is going to keep his stay home order). I do know some schools are choosing to postpone even though this is a tough decision as well.
I can only imagine the disappointment they are experiencing right now.
Road Tests:
Due to Governor Walz's Stay at Home Order, the Minnesota Department of Vehicle Services (DVS) has suspended road tests for new drivers for the foreseeable future. Previously scheduled tests that were canceled because of this order will be prioritized when things open back up. Having testing shut down for months will add additional delays and exacerbate the backlog that existed even before Coronavirus was an issue. DVD is currently allowing some road tests for certain drivers applying for a Commercial Drivers License (CDL), but is not allowing them for regular Class D licenses.
I have been working with my fellow Senators to come up with solutions to this problem. One thing we have considered is bill by my colleague Sen. Karin Housley, SF3226, which would allow driving schools, or other 3rd parties that meet strict requirements to test drivers. This would allow many more Minnesotans to get driving tests closer to home and with more flexible schedules. I am supportive of this bill, unfortunately the Governor and Democrats in the House are opposed. In addition we have attempted to get DVS to safely open up passenger vehicle testing by using go-pros, plexiglass, personal protective equipment, follow cars or some other type of safe testing method but DVS has refused to consider these policies.
Here is information provided by the MN Department of Vehicle Services:
How is COVID-19 impacting road tests?
Road tests are not available while DVS exam stations are closed during Gov. Walz's stay at home order, which is extended until May 18. Anyone who has a class D, commercial driver's license (CDL) or motorcycle road test appointment scheduled during this time received a cancellation notice by email or text message.
All road test appointments canceled during the closure will be prioritized and rescheduled once exam stations reopen. DPS-DVS will call, email or text those affected to offer the first available day and time for their road test once normal operations resume. Once canceled appointments are rescheduled, available appointment slots will be opened to the public for scheduling.
I am hopeful that the Governor recognizes this real need for Minnesota families and is willing to work with the legislature to come up with a path that can allow Minnesotans to safely get their licenses.
Resources for Farmers:
The legislature authorized the use of the Rural Finance Authority's (RFA) Disaster Recovery Loan Program funds to address additional needs during a Peacetime Emergency Declaration. This applies to farms that have experienced a loss of revenue due to human disease (such as COVID-19) or experienced a loss of revenue due to highly contagious animal diseases affecting your livestock or poultry flocks.  The interest rate on this loan is currently 0%. https://www.mda.state.mn.us/disasterloan
The legislature extended the length of mediation available for farmers in the Farmer-Lender Mediation Program from 90 to 150 days. Minnesota farmers that are in debt can renegotiate, restructure, or resolve farm debt through mandatory Farmer-Lender Mediation. Mandatory mediation means that creditors cannot start a proceeding to collect a debt against agricultural property until an offer of mediation has been extended and, if the farmer so chooses, completed.
https://www.mda.state.mn.us/reminder-farmers-lenders-mediation-has-been-extended-150-days
The MDA is working to limit disruption for producers of smaller herds or flocks by matching them with slaughter facilities and identifying other marketing opportunities. Farmers with smaller herds or flocks seeking new processors, alternate markets, or increased storage, please contact Jim Ostlie, 320-842-6910, Jim.Ostlie@state.mn.us or Courtney VanderMey, 651-201-6135, Courtney.VanderMey@state.mn.us
The MDA is working with existing "Equal To" processors (plants under continuous inspection that are able to produce and process meat and poultry products for wholesale within the State of Minnesota) to expand capacity. They are also developing an expedited approval process to enable plants that currently do not sell wholesale within the state to do so. If these establishments meet the minimum requirements, they will be granted a 90-day provisional grant of inspection.  Processing plants interested in expanding their slaughter capacity, have additional processing capacity, or wanting expedited licensing, please contact Jennifer Stephes at 651-248-2566.
Farmers have access to free mental health resources, which will now be provided exclusively via phone or video chat with one of Minnesota's Rural Mental Health Specialists. I've heard lots of positive reviews about this program, and it's available remotely and at no cost.  Information is here: https://www.mda.state.mn.us/about/mnfarmerstress/copingstress
Besides 911, if you encounter someone with an imminent plan, there is a crisis line in every county that you can refer to for 24/7 help; the number varies by county.
https://mn.gov/dhs/people-we-serve/people-with-disabilities/health-care/adult-mental-health/resources/crisis-contacts.jsp
I know financial stress can often be a trigger in these sorts of situations. Once immediate safety needs are dealt with, Minnesota's Farm Advocate program could potentially be of help.  The assistance is one-on-one and is available to farmers at no cost.  Farm Advocates are helpful when a farmer is considering a major financial decision, and receive training on lender policies, bankruptcy laws, mediation, tax laws, USDA Farm Service Agency loan programs, Farm Credit Services, and all other government programs affecting agriculture.
https://www.mda.state.mn.us/about/commissionersoffice/farmadvocates
Unemployment:
Several weeks ago, and as a result of the unprecedented number of new unemployment insurance applicants, the Minnesota Department of Employee and Economic Development (DEED) made the difficult decision to alter their phone schedule to prioritize application calls and password reset calls.
That meant that some people who needed to talk with the department had to wait.
Most people can get answers to their questions by visiting www.uimn.org; however, DEED is aware that some people really need to talk to them directly to resolve issues. This week, DEED resumed taking calls from a broader set of customers, including those who have questions about their account or
payment status.
Due to unprecedented call volumes, DEED also released a new call schedule to better serve Minnesotans. Below is the new schedule, and the numbers to call are 1-877-898-9090 or TTY – users: 1-866-814-1252.
COVID 19 Resources:
Please visit https://www.mnsenaterepublicans.com/coronavirus-latest-news-resources-for-people-impacted-by-coronavirus/ for more COVID-19 Resources.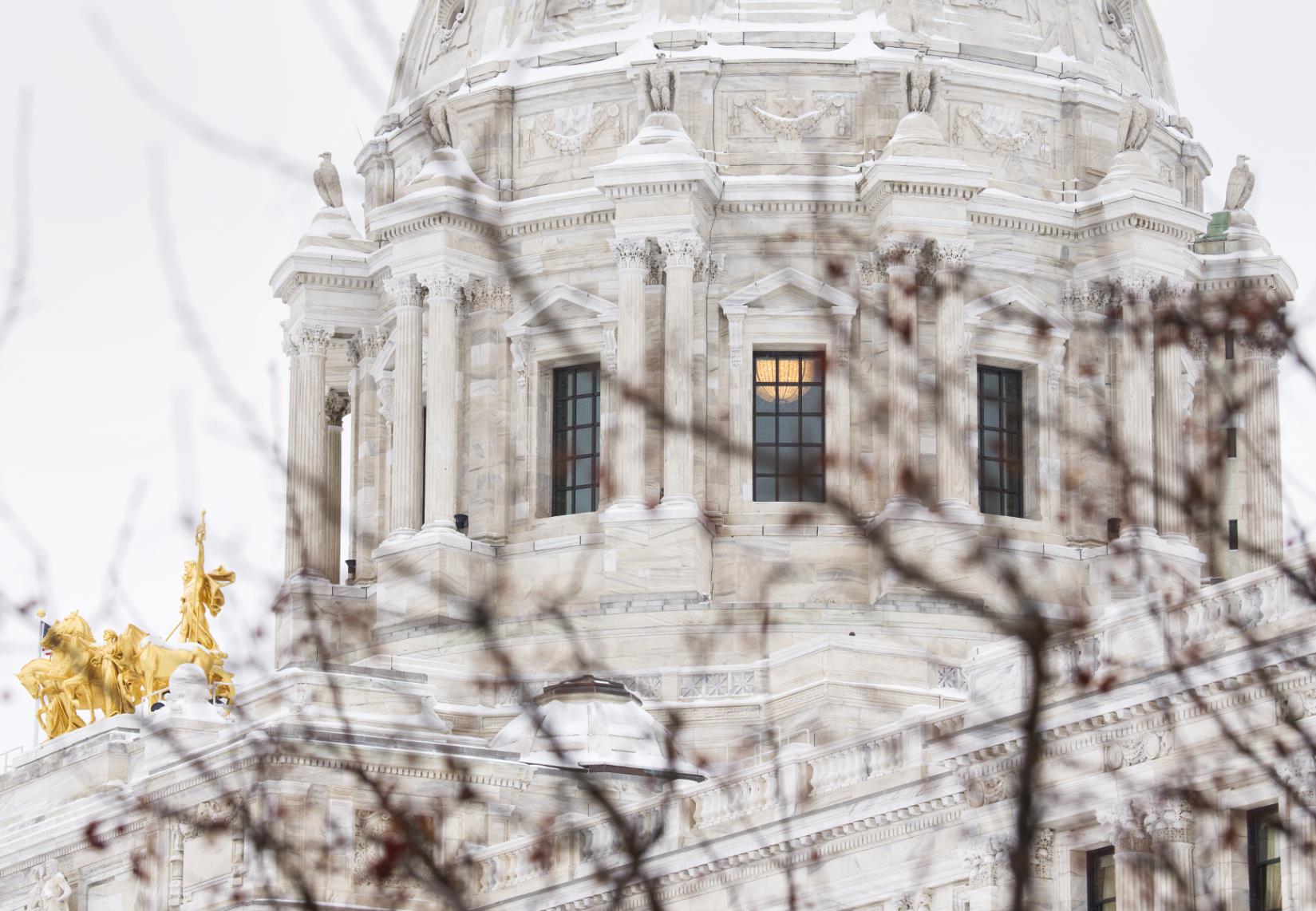 Watch the Minnesota Senate
On the Public Broadcast Minnesota Channel: The Senate and House will be programming the Minnesota Channel daily from 8 a.m. to 6 p.m.   The coverage consists of live and recorded floor sessions, select committee hearings and press conferences, interview programs, and informational videos. Click here for local stations (scroll to the bottom of the page) and broadcast schedule.
On the Video Streaming Website: Click here see the upcoming scheduled events, select the events for viewing when underway, and view archived video of floor sessions and committee hearings.
On the continuous Senate Web stream: Click here to access the Senate video stream anytime to see what is scheduled or occurring on the Senate video stream.
Click here to view featured videos, including occasional featured live streams.
Click here for broadcast and webcast schedules, links to capitol report podcasts, and channel locations.