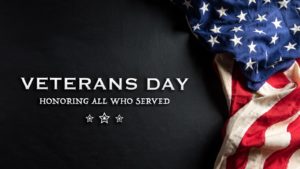 Friends and Neighbors, 
As we approach this upcoming Veterans Day, I am reminded of the 327,000 veterans that call Minnesota home. Veterans are some of the strongest members of our society and I am proud of all who have served and the families that support them in their service. Every day I am thankful for their courage, their patriotism, and all they have done to protect this great nation, but even more so on Veterans Day.
One hundred years ago, Veterans Day, originally celebrated as Armistice Day, was first declared by President Woodrow Wilson on November 11, 1919.  Known at the time as "The Great War", World War I officially ended with the signing of the Treaty of Versailles on June 28, 1919. However, the fighting ended seven months earlier when a temporary cessation of hostilities between Germany and the Allied nations went into effect on the eleventh hour of the eleventh day of the eleventh month. For this reason, November 11, 1918 is generally regarded as the end World War I and became an annual holiday in 1938. 
While Armistice Day was originally a day set aside to honor veterans of World War I, in 1954, the name was officially changed to Veterans Day, so that "a grateful nation might pay appropriate homage to the veterans of all its wars who have contributed so much to the preservation of this Nation." 
So it is my sincere hope that everyone is thankful and will express their thankfulness to those among us who have sacrificed so much in service to our country. Today there are over 17 million veterans nationwide, and to all of them I want to say, thank you for your service!
You can read more on the history of Veterans Day here, and as always, feel free to contact me with your thoughts and concerns at any time. You can call me at  651-296-5655 or send me an email at sen.mary.kiffmeyer@senate.mn.