Friends and Neighbors,
The first two months of session has effectively been a free-for-all. Every legislator is free to introduce as many bills as they want on any topic that interests them. However, the first committee deadline is fast approaching, which will change the legislature's focus. With a few exceptions, only bills that have met deadline requirements in both the House and Senate will have an opportunity to become law. With those deadlines right around the corner, the legislature has been working overtime to make sure the most important bills clear deadline hurdles.
Here are a few of the issues that we worked on this week. If you have any questions or feedback, please feel free to contact me any time. My phone number is 651-296-5981 and my email address is sen.bruce.anderson@senate.mn.
Sincerely,
Eliminating taxes on Social Security Income
I am often asked why Minnesota still collects taxes on Social Security income. After all, Social Security is effectively taxed twice: once when it is taken out of your paycheck, and again when you receive the benefit later in life. Minnesota is one of only 13 states that taxes Social Security benefits; it's no surprise that Kiplinger's recently ranked Minnesota as their least tax-friendly state for retirees.
The Senate has a bill that would encourage seniors to stay in Minnesota after retirement by fully exempting Social Security income from Minnesota state income taxes. Under our bill, the entire amount of Social Security benefits received by an individual could be subtracted from their income taxes. It might be the most commonsense proposal in the legislature right now. Let's let retirees keep the benefits they've earned and show them we want them to stay here.
Cleaning up the MNLARS mess
MNLARS has been a disaster from the very beginning, but it was really Gov. Dayton's disaster. Gov. Walz has shown a sincere interest in getting to the bottom of the problem – something we never saw from Gov. Dayton. So recently the Senate authorized – and Gov. Walz signed — a small amount of funding to keep MNLARS contractors in place. Gov. Walz is new to the job, and we want to give him the benefit of the doubt that he is serious about fixing MNLARS. That said, we also have to protect taxpayers, which is why we also passed an external review requirement. This independent review will give us full access to what is happening with MNLARS. If we aren't seeing progress, all options will be on the table.
Extending the ditch mowing moratorium
An issue that is especially important for farmers is ditch mowing. Last year MnDOT created a new policy that would require permits for farmers who mow and bale hay in state highway rights-of-way. Farmers have been doing this for decades without issue, and MnDOT's new requirements would be onerous and disruptive. Last year we implemented a moratorium preventing MnDOT from enforcing the new requirements; recently the Senate introduced a bill to extend the moratorium by another year while all interested stakeholders work on a permanent solution that works for everyone.
Constituent Photos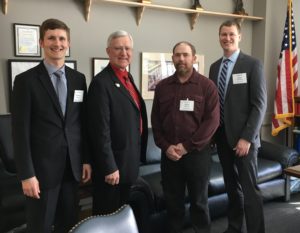 Enjoyed meeting with Andrew Grean, Chris Uecker, and Luke Johnson of the Wright County Soil and Water Conservation District.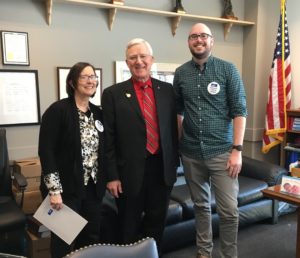 Enjoyed meeting with visitors from Jane Goodall Environmental Sciences Academy in Maple Lake!