Neighbors,
This week, the governor gave his final State of the State speech. Governor Dayton's message held a very divisive tone, which gives me concern about his commitment to working together this year. We can accomplish a lot; I just hope he will be willing to come to the table.
The Minnesota Senate has a lot to get to in the next weeks, so please read below for the latest news from the capitol. If you have any questions about these issues, please don't hesitate to call or email me.
Work requirements for public health benefit recipients
There are about 1.1 million Minnesotans who receive Medical Assistance benefits. That's almost one-fifth of the entire population of Minnesota. No matter how well-intended the program is, we can all agree it is less than desirable for 20% of a state's population to be collecting public benefits.
This week we proposed work requirements for recipients of Medical Assistance. It is simple: if you are collecting Medical Assistance and you are able-bodied, we think you should spend at least 80 hours per month working, looking for work, or participating in documented community service. There are certainly exceptions, but this is a common sense reform that will help lift families out of poverty.
Read more: https://www.mnsenaterepublicans.com/republican-legislators-unveil-medical-assistance-work-requirement-legislation/
Tackling the elder abuse scandal
This week the Senate Majority unveiled its plan to address the elder abuse scandal that is sweeping the state. The Elder Care and Vulnerable Adult Protection Act is the product of hundreds of conversations with stakeholders, victims and their families, care providers, legislators, and administration officials.
It includes strict abuse prevention measures, requirements for timely communication of investigation results, consumer protections, stronger oversight and accountability, and imposes civil and criminal penalties.
Read more: https://www.mnsenaterepublicans.com/republicans-take-action-to-protect-elderly-minnesotans-with-the-elder-care-and-vulnerable-adult-protection-act/
A rally for veterans
On Monday I spoke to over 1,000 men and women veterans attending the Veterans Day on the Hill rally in the state capitol rotunda about veterans' issues and my own experiences. Aside from my own 30 year military service, my daughter was recently promoted to Chief Master Sergeant (E-9) in the active duty Air Force and I could not be more proud of her! She has served our country for 22 plus years!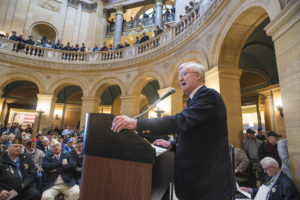 Meetings with constituents
This week I met with a number of constituents. You can see some photos below!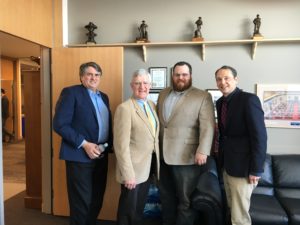 Layne Roeschen, Sen. Anderson, Dan Schonhart, and Victor Florell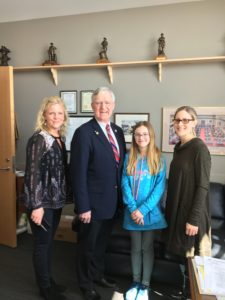 Michelle Farniok, Sen. Anderson, Rachel Farniok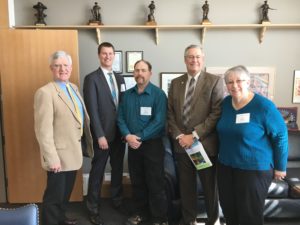 Sen. Anderson, Luke Johnson, Chris Uecker, Sen. Newman, Mary Wetter
Keep in Touch
Senator Bruce Anderson
3209 Minnesota Senate Building
95 University Avenue West
St. Paul, MN 55155
651.296.5981
sen.bruce.anderson@senate.mn