Friends and Neighbors,
I hope you are all enjoying the start to the fall! As always, I am looking forward to the changing leaves. I am very thankful for the opportunity to experience all four seasons in our beautiful state!
I thought this week I would share some highlights of this year's environment and natural resources bill. One of the big topics this year was Aquatic Invasive Species (AIS). We included funding for a new Aquatic Invasive Species (AIS) detection system to keep AIS out of our lakes. We supported grants for additional research to mitigate the effects on lakes that have already been impacted and included significant investments to improve public awareness and water access inspections to manage and prevent the spread of AIS.
The bill also included funding for studies on Chronic Wasting Disease (CWD), particularly how it can be controlled and eradicated. Due to concerns over the spread of CWD, we thought it was necessary to prioritize research right away, so it does not spread out of control.
Additionally, we are hoping to keep our younger generations interested in all the beauty and resources our state offers. New policies will allow schools to teach gun safety, hunting, and angling training through physical education programs. Funding was also included for three additional free admission days at state parks. I hope we can encourage kids and families to pursue an active lifestyle and recognize all that there is to enjoy and care for in the nature around us.
Award from the American Conservative Union Foundation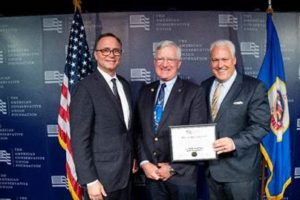 Recently, the American Conservative Union Foundation (ACUF) released its ratings of the 2019 legislative session. They also presented awards to several legislators recognizing their excellent representation of Minnesotans on a variety of issues.  I received a 94% score from ACUF's Center for Legislative Accountability (CLA) and an award highlighting my commitment to conservative values last session.
As I vote on a wide variety of topics throughout session, I always keep our district in mind. I am honored by this award from ACUF and I will continue my commitment to limit government, improve transparency, and protect Minnesotan's rights.
I hope you all have a great weekend. As always, please feel free to reach me any time at 651-296-5981 or sen.bruce.anderson@senate.mn.
Keep in Touch
Senator Bruce Anderson
3209 Minnesota Senate Building
95 University Avenue West
St. Paul, MN 55155