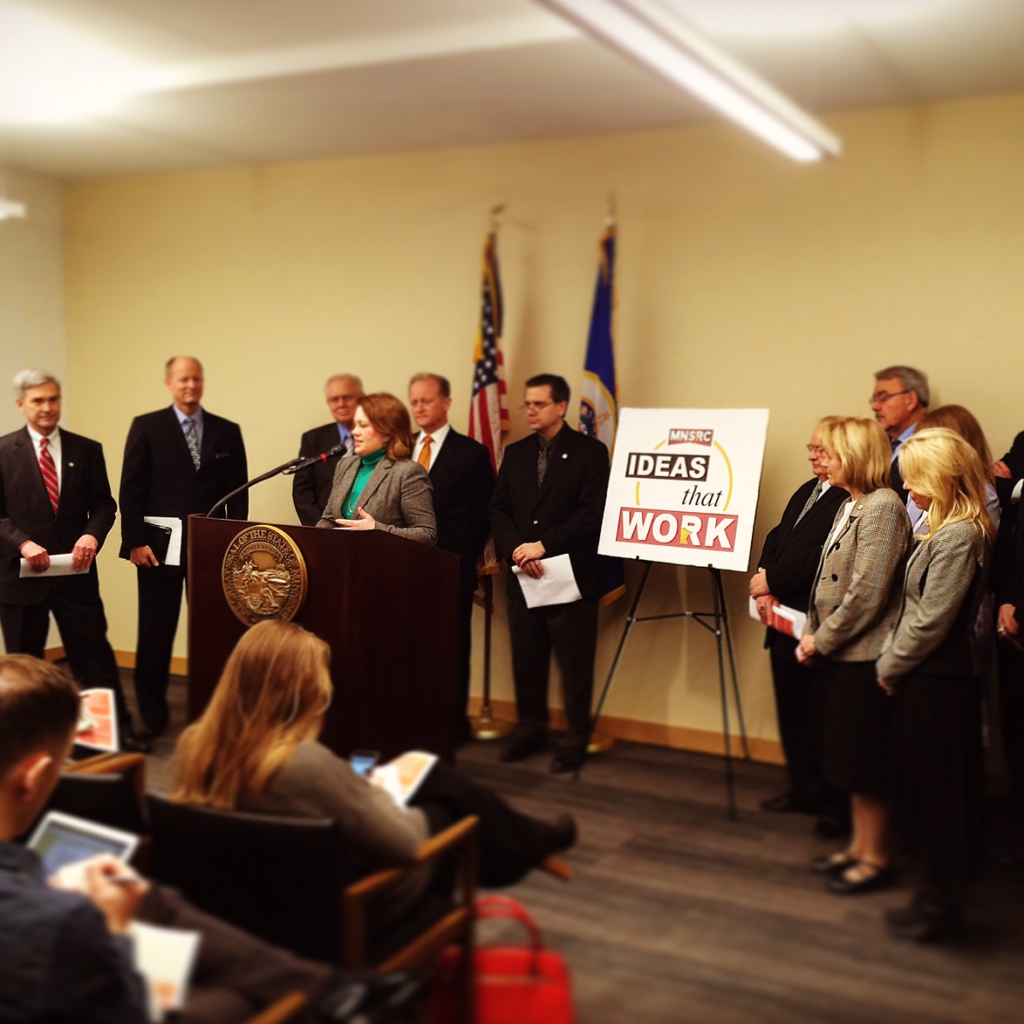 Senate Republicans Unveil Legislative Priorities for 2016
Transportation and tax relief lead "Ideas That Work" agenda
Senate Republicans unveiled their priorities for the 2016 legislative session today renewing their call for a long-term transportation plan and tax cuts for seniors and veterans. The Ideas That Work for All Minnesotans agenda also includes education and healthcare reforms to give Minnesotans more choices.
"We can't let another session go by without passing a long-term transportation plan and significant tax relief and reform," said Senate Republican Leader David Hann (R-Eden Prairie). "Our plan focuses on ideas that will actually work to build roads and bridges, let Minnesotans keep more of the money they earn and lower their healthcare costs."
Ideas That Work – Transportation
Instead of relying on a gas tax increase on the poor and middle class, the Republican transportation plan proposed in 2015 dedicates existing revenue from the sales tax on transportation related items (such as auto parts) to a new Transportation Stability Fund to build more roads and bridges. The Republican transportation plan also prioritizes trunk highway and general obligation bonding for transportation and finds additional savings in the current Department of Transportation budget. This approach will deliver $7 billion in additional funds to fix 15,500 miles of roads and 330 bridges statewide over the next 10 years.
"Our proposal increases funding for roads and bridges by $7 billion over the next ten years without taking more money out of working families' checkbooks," said Senator Scott Newman (R-Hutchinson), Lead Republican on the Transportation Committee. "Minnesotans are sick of the stalemate over transportation funding. The people overwhelmingly reject the gas tax approach and it's time for Democrats to finally come to the table and work toward a productive solution."
Ideas That Work – Taxes and Spending
In 2015 Senate Republicans led the discussion on tax relief by proposing to eliminate state income taxes for seniors receiving Social Security and veterans choosing to live in Minnesota. Minnesota is one of only seven states that taxes Social Security benefits when they are paid out to retirees. Over 600,000 Minnesotans, including 70% of Minnesota seniors, will benefit from this tax break.
"It's time for Minnesota to put out the welcome mat for retirees by lowering their taxes," said Senator David Senjem (R-Rochester), the author of the Retire in Minnesota Act. "Our seniors have worked hard all their lives, already paid taxes on this income once and are such a valuable resource for Minnesota. Let's make it easier for them to retire here."
Republicans will also push for property tax relief for farmers in Greater Minnesota through a provision that lowers property taxes for agricultural land.
"The state needs to step in and help farmers in Greater Minnesota when the burden falls so much harder on their properties," added Sen. Paul Gazelka (R-Nisswa), who is serving on the Tax Conference Committee.
Ideas That Work – Healthcare
The decisions the legislature makes regulating public healthcare programs have a profound effect on the entire system in Minnesota, causing premiums and deductibles for everyone to increase. The Senate Republican agenda for healthcare reform includes three initiatives that provide more choice for people in public programs and lower healthcare costs for everyone in Minnesota.
The first proposal will allow lower income families to shop for private insurance plans instead of forcing them into one-size-fits-all state-run programs. The second will allow health plans to offer a wider variety of products in the individual market that are tailored to individual needs, free from the onerous mandates of Obamacare. The third proposal will allow Minnesotans to purchase healthcare plans from a nationwide marketplace of plans certified by other states.
"We are proposing common sense healthcare reforms that will give everyone more choices and lower costs across the entire system," said Sen. Michelle Benson (R-Ham Lake), Lead Republican on the Health, Human Services and Housing Policy Committee. "If the Democrats refuse to overhaul the MNsure system, the least they can do is pass these ideas into law and help people struggling with healthcare costs."
Ideas That Work – Education
Senate Republicans already announced a series of proposals to improve K-12 education in Minnesota that focus on academic achievement and empowering parents to make decisions about the education of their children. The Republican proposals include expanding the current education tax credit and deduction program and allowing Education Savings Accounts (ESAs) for low-income students and students with special needs. Other proposals reinstate the graduation requirement for high school and eliminate reporting requirements for school districts.
"Big problems require bold solutions," said Sen. Eric Pratt (R-Prior Lake). "It's time to stop wringing our collective hands over Minnesota's achievement gap and start passing legislation that is proven to work."
"This is a bold agenda and Senate Republicans are ready to lead and set priorities for the 2016 session," added Sen. Hann.