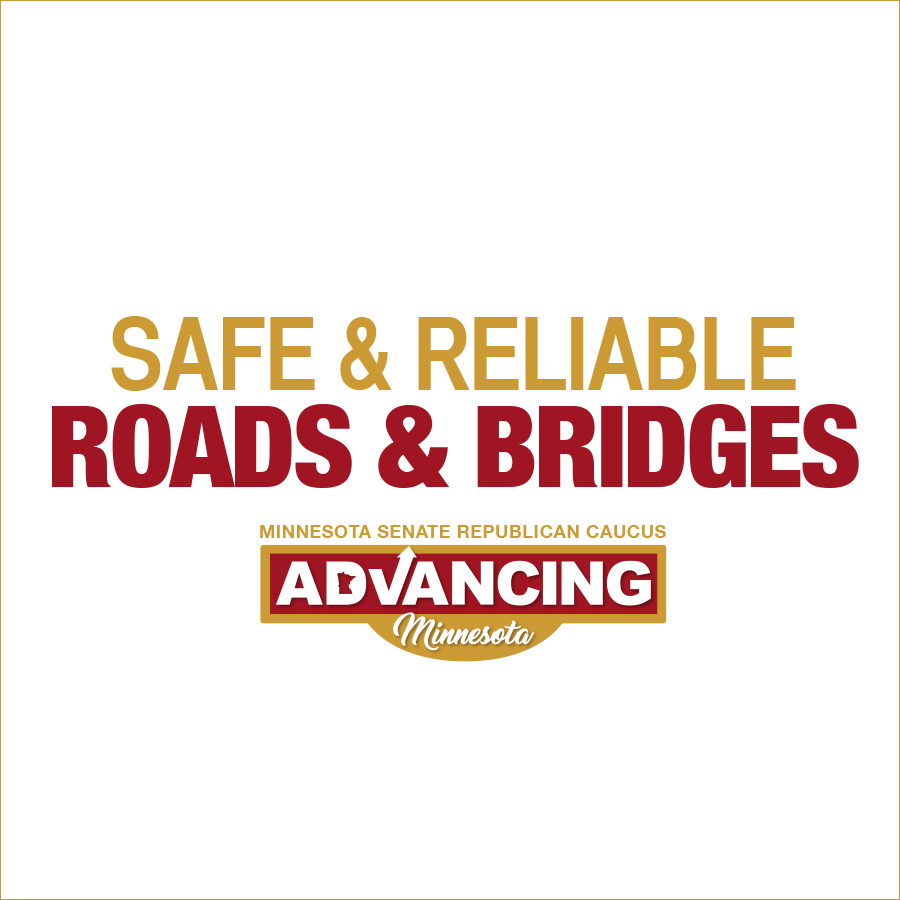 Senate Republicans Advance Minnesota with $3.6 billion in new funding for roads and bridges


Senate Republicans earned bipartisan support, a 38-28 vote, for a bill that dramatically boosts funding to repair or replace the state's roads and bridges. The Republican budget will immediately infuse $1.3 billion in roads and bridges over the next two years and $3.6 billion over a ten-year period. More than 8,800 lane miles and 200 bridges could be repaired or replaced under the Republican plan.
"The Republican plan concentrates new spending on roads and bridges, which impact every aspect of our lives and are essential to Minnesota's economic growth. Minnesotans' health, education, and welfare hinge on having safe and reliable transportation every day," said Sen. Scott Newman (R-Hutchinson), chair of the Senate's Transportation Committee. "This year, Republicans are giving transportation infrastructure the attention it deserves."
New, ongoing funding makes up $2.8 billion of the ten-year commitment, and the other $766 million includes a mix of trunk highway bonding and federal grants. Cities, counties, and townships will receive special consideration with $148 million in combined funding over the biennium to spend as they deem fit.
The Senate Republicans' transportation budget also includes common sense changes to MNDOT's project selection process, which has been criticized by the Office of the Legislative Auditor for its lack of fairness and transparency. With the inclusion of Senate File 1524 and Senate File 1525, the Commissioner of Transportation will be required to score transportation projects impartially, with input from local stakeholders, and publish the results publicly so residents can see where their local project falls on the list to begin construction.
The budget also eliminates the state's responsibility to pay fifty percent of operating costs for future light rail lines. In the last biennium, taxpayers from all corners of the state subsidized two light rail lines in the Twin Cities metro to the tune of $49 million, regardless of their proximity to it or ability to use it.
"Rural Minnesota has been disproportionately hurt by the legislature's procrastination on transportation issues," added Senate Majority Leader Paul Gazelka. "In addition to new funding for roads and bridges, the policy provisions in this bill make the selection of road construction projects equitable statewide and end unfair rural taxation for metro light rail."