Hello Neighbors,
Fall is definitely here and these cold temperatures remind me that winter will not be far behind. I hope you have had time to enjoy all the beautiful colors that nature has shared with us this year.
I have been working in St. Paul and meeting folks in the area over the past several weeks to discuss issues for the upcoming session and I wanted to update you on a few items.
Medicaid paying deceased enrollees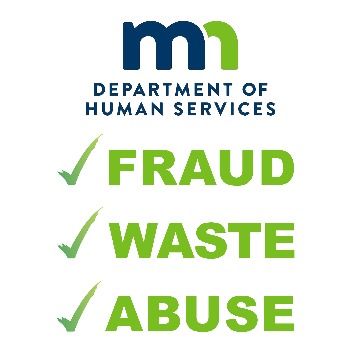 The Minnesota Department of Human Services announced the results of an audit that found the state improperly paid $3.7 million for deceased enrollees in Minnesota's Medicaid program.
Another day, another report of waste, fraud, or abuse at DHS. Minnesotans are getting sick of it. Meanwhile, the governor is busy announcing new California-style restrictions on pickup trucks and SUVs. The governor needs to get focused and get his house in order.
Troubling dysfunction related to overpayment to tribes
The Office of the Legislative Auditor released a report on their investigation into overpayments made by the Department of Human Services to two tribes in northern Minnesota for opioid addiction treatment. The report found "troubling dysfunction" at the department and a lack of accountability for the illegal payments.
The OLA found that DHS did not have the legal authority to make these payments to the tribes.
No DHS official has taken responsibility for the decision to allow these payments.
The OLA was unable to find any documentation from DHS that shows when or why the decision to allow these payments was made.
The OLA noted that the state could face serious legal and financial challenges as DHS attempts to recoup the overpayments.
These illegal overpayments represent an utter failure by every level of DHS leadership, and the fact that so far everyone has refused to accept responsibility is completely unacceptable. Millions of people rely on DHS for crucial services, and the constant stream of scandals undermines the agency's entire mission. I will continue to demand changes at DHS until they get this mess cleaned up.
Blue Ribbon Panel seeking input to eliminate waste
I have long believed that one of the simplest ways to save taxpayer money is to examine the Departments of Health and Human Services. It's the largest area of the budget, and has been at the center of of controversies, including recent reports that they paid out $3.7 million to people that had already passed away.
The 2019 budget agreement included a provision that created a Blue Ribbon Panel specifically tasked with finding savings in our health and human services agencies. The commission will develop an action plan to improve program inefficiencies, produce savings, and promote better outcomes.
If you have any feedback or ideas, we would love to hear them! Please send in your submission using the website below.      https://mn.gov/dhs/hhsbrc/contact/
Capitol Investment Committee visits our area
The Capitol Investment Committee has been touring Minnesota reviewing projects that have requested funding from the legislature. I was proud to join them in local visits.
Pine Technical and Community College
Recently the Senate Capitol Investment Committee visited a spot that is near and dear to my heart: Pine Technical and Community College. Click the photo for my comments about the tour.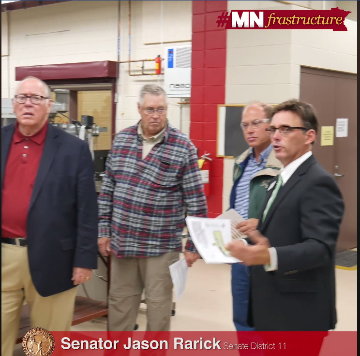 Twin Lakes Township
Earlier I communicated about the water treatment needs in Twin Lakes Township. THIS is what I was talking about when I mentioned how badly they need this project. Click the photo to hear my thoughts.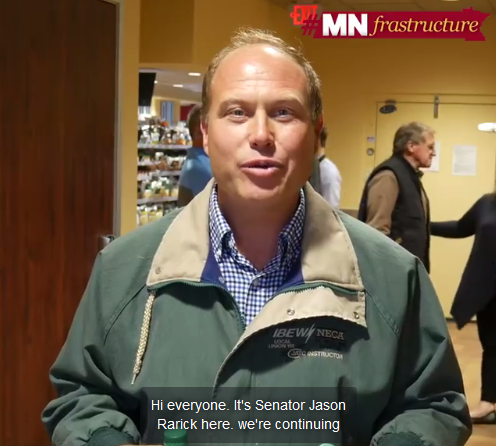 Fond du LacTribal and Community College
We were welcomed at Fond du Lac Tribal and Community College in Cloquet to talk about some of their upgrade requests and asset preservation needs. This is a great school and we need to make sure they can keep providing students with a great education. Click photo to hear more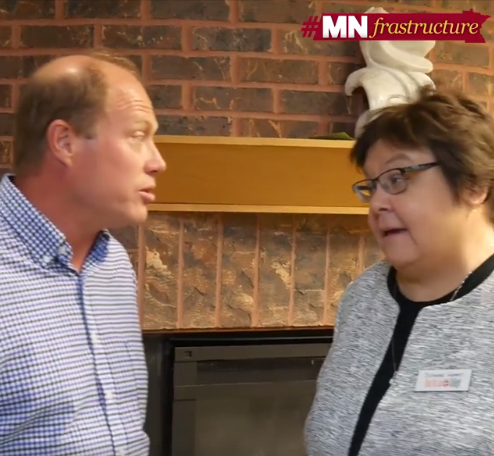 Approved project financing for WLSSD
I am pleased to share that Western Lake Superior Sanitary District (WLSSD), is the recipient of $7,131,411 in funding through  the Minnesota Public Facilities Authority (PFA) which provides financing and technical assistance to help communities build and maintain public infrastructure that protects public health and the environment and promotes economic growth.
WLSSD is one of the biggest wastewater treatment facilities Minnesota has, and I am grateful the PFA included us in this round of funding, These improvements will make it easier for WLSSD to continue providing clean water to the thousands of customers they serve including the communities of Cloquet, Carlton, Scanlon and Wrenshall.
The projects consist of various improvements to the District's wastewater treatment plant and rehabilitation of the Lakeside interceptor. Three separate loans from the  PFA totaling $7,131,411 at 1% interest will cover the cost of the projects. The loans are expected to save a combined $343,951 when compared to market-rate financing.
Stay in Touch
I'd like to remind residents that I am always available to answer your questions or concerns. Please email me anytime at sen.jason.rarick@senate.mn or call my office in St. Paul at 651-296-1508.
Thank you for giving me the privilege of serving you in the Minnesota Senate!