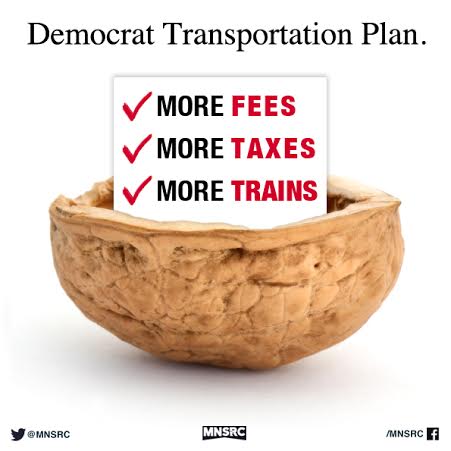 Democrats increase transportation taxes on drivers and consumers

Senate Democrats just don't listen.
Recent polls show the majority of Minnesotans oppose a new gas tax, and 75% of Minnesotans approve of the Republican plan to put more money toward roads and bridges without raising taxes. But Senate Democrats plowed ahead anyway with their unpopular transportation bill that will impose $2 billion in new taxes and fees.
Under their plan, Minnesotans will pay:

16-26¢ per gallon gas tax increase

$191M in new vehicle registration taxes

$24M in new motor vehicle title surcharges

$90M in new vehicle transaction filing fee surcharges

$636M in new sales taxes for purchases in Anoka, Carver, Dakota, Hennepin, Ramsey, Scott, and Washington counties

New parking fees for private and public lots in Minneapolis and St. Paul

New license plate fees
The sad reality is that these new taxes don't just hit drivers, they affect everyone who buys everyday household products transported by trucks in Minnesota. Even the poorest among us who need to get to work and feed their families will pay more for gas, more at Target, and more at the grocery store. What's worse, the gas tax will go up as fuel prices rise. It's as if Senate Democrats said, "Let's hit 'em when they're down."
Every Republican opposed the bill, and all but two Democrats approved it. How did your Senator vote?
Senate passes gas tax increase, other transportation revenue 36-27. #mnleg pic.twitter.com/dEgFyGRAmy

— Patrick Condon (@patricktcondon) April 27, 2015