State Senator Michelle Benson (R-Ham Lake) has been named a 2017 Public Official of the Year by LeadingAge Minnesota, a respected advocacy group for Minnesota's aging population. She received the award for her work as chair of the Senate Health and Human Services Finance and Policy Committee and for her commitment to long-term care reform.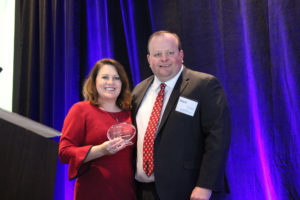 "Caring for our aging loved ones is one of our chief responsibilities – not just as legislators, but as people," said Sen. Benson, who also serves as deputy majority leader of the Senate. "For most of history, civilizations have revered aging populations, and caring for them was one of society's most important duties. I am proud that our culture's commitment to elder care is as strong as ever, and I am thankful that groups like LeadingAge continue to drive innovation and outstanding care."
"Senator Benson's commitment to long-term care reform is unquestionable. She understands key reforms in long-term care policy are necessary to serve a growing population of aging adults and is engaged in finding solutions that preserve quality of life for seniors. As the federal health care landscape changes, Senator Benson's leadership at the state level will move Minnesota into a new era of reform," said Mark Anderson, Chair, LeadingAge Minnesota Board of Directors.
LeadingAge has more than 1000 member organizations made up of providers of senior living, residential support services, adult day services, and in-home care for older adults. LeadingAge works alongside their members, caregivers, advocates, and consumers to influence the future of aging services and guarantee a meaningful life filled with meaning, purpose, and dignity for all older adults in Minnesota.